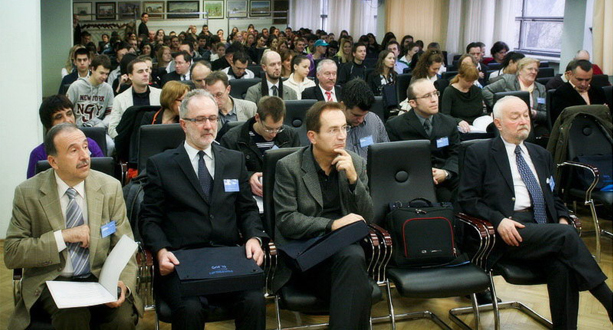 About GRID12 symposium
The first symposium of Graphic Engineering and Design was held in 2002. It is organized every two years as an international symposium, with the objective of connecting researchers from industry and institutions related to the field of graphic engineering and design through presentation of research results to scientific and professional community. This year, the 6th GRID symposium will be held on November 15th and 16th on the Faculty of Technical Sciences. Program and peer review committee of the symposium consists of eminent scientists from Serbia and abroad. The proceedings of the symposium will be published in English.

We are looking forward to your participation in the GRID12 Symposium.
Scientific Committee
Prof.PhD Livija Cvetićanin, Faculty of Technical Sciences, Novi Sad (SRB)
Prof.PhD Ilija Ćosić, Faculty of Technical Sciences, Novi Sad (SRB)
Prof.PhD Wolfgang Faigle, HDM, Stuttgart (GER)
Prof.PhD Thomas Hoffman-Walbeck, HDM, Stuttgart (GER)
Prof.PhD Malferd Verfel, IFRA, Darmstadt (GER)
Prof.PhD Mladen Lovreček, Faculty of Graphic Arts, Zagreb (CRO)
Prof.PhD Miroslav Gojo, Faculty of Graphic Arts, Zagreb (CRO)
Prof.PhD Diana Milčić, Faculty of Graphic Arts, Zagreb (CRO)
Prof.PhD Diana Gregor - Svetec, Faculty of Natural Sciences and Engineering, Ljubljana (SLO)
Prof.PhD Tadeja Muck, Faculty of Natural Sciences and Engineering, Ljubljana (SLO)
Prof.PhD Marie Kaplanova, Faculty of Chemical Technology, Pardubice (CZE)
Prof.PhD Georgij Petriaszwili, Warsaw University of Techology, Warsaw (POL)
Prof.PhD Tome Jolevski, Technical faculty, Bitola (FYRM)
Prof.PhD Erzsébet Novotny, Faculty of Light Industry and Environmental Engineering, Budapest (HUN)
Prof.PhD Csaba Horváth, Faculty of Light Industry and Environmental Engineering, Budapest (HUN)
Prof.PhD Slobodan Nedeljković, Academy of Arts, Novi Sad (SRB)
Prof. Boško Ševo, Academy of Arts, Novi Sad (SRB)
Prof.PhD Vera Lazić, Tehnološki fakultet, Novi Sad (SRB)
Prof.PhD Katarina Gerić, Faculty of Technical Sciences, Novi Sad (SRB)
Prof.PhD Dragoljub Novaković, Faculty of Technical Sciences, Novi Sad (SRB)
Prof.PhD Jelena Kiurski, Faculty of Technical Sciences, Novi Sad (SRB)
Prof.PhD Branko Milosavljević, Faculty of Technical Sciences, Novi Sad (SRB)
Prof.PhD Siniša Kuzmanović, Faculty of Technical Sciences, Novi Sad (SRB)
Prof.PhD Rossitza Velkova, Printing Industry Union of Bulgaria, Sofia (BUL)
Prof.PhD Salim Ibrahimefendić, Faculty of Graphic Arts, Sarajevo (BIH)
Doc.PhD Igor Karlović, Faculty of Technical Sciences, Novi Sad (SRB)
Organizational Committee
Dragoljub Novaković,
Živko Pavlović,
Igor Karlović,
Željko Zeljković,
Sandra Dedijer,
Magdolna Apro,
Nemanja Kašiković,
Uroš Nedeljković,
Ivan Pinćjer,
Ivana Tomić,
Neda Milić,
Vladimir Zorić,
Srđan Drganov,
Ivana Rilovski,
Bojan Banjanin,
Irma Puškarević
Technical Secretary
Gojko Vladić
Reviewing Committee
Prof.PhD Mirosalv Gojo, Faculty of Graphic Arts, Zagreb (CRO)
Prof.PhD Csaba Horváth, Faculty of Light Industry and Environmental Engineering, Budapest (HUN)
Prof.PhD Diana Gregor - Svetec, Faculty of Natural Sciences and Engineering, Ljubljana (SLO)
Prof.PhD Tadeja Muck, Faculty of Natural Sciences and Engineering, Ljubljana (SLO)
Prof.PhD Marie Kaplanova, Faculty of Chemical Technology, Pardubice (CZE)
Prof.PhD Livija Cvetićanin, Faculty of Technical Sciences, Novi Sad (SRB)
Prof.PhD Dragoljub Novaković, Faculty of Technical Sciences, Novi Sad (SRB)
Doc.PhD Igor Karlović, Faculty of Technical Sciences, Novi Sad (SRB)