GRID22 Symposium will take place in Central University Building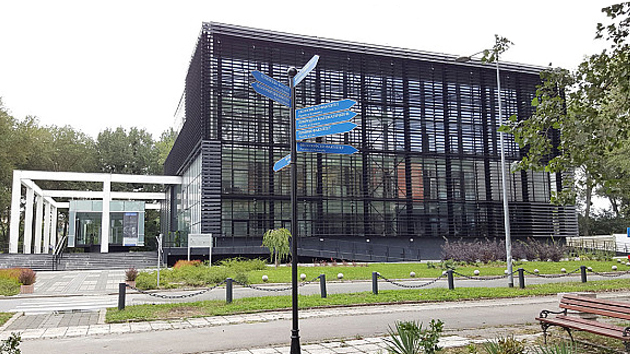 About GRID22 symposium
The 11th professional and scientific GRID22 symposium aims to continue and improve the exchange of expertise among scientific workers, researchers, experts and professionals who work in the graphic industry in Serbia and abroad. GRID22 international symposium will take place on November 03-05, 2022 in Novi Sad, Serbia. Symposium will be hosted and organized by the Department of Graphic Engineering and Design // University of Novi Sad, Faculty of Technical Sciences. It is being organised every two years as an international symposium, with the objective of connecting researchers from industry and institutions related to the field of graphic engineering and design through presentation of research results to scientific and professional community.

In the past years, we have witnessed the global impact of the COVID-19 pandemic on everyday life, and we need to adapt to the new global changes. Considering that there are evident obstacles in business travel planning and national border crossing, the organizing committee of the GRID22 conference decided to keep the interactive web technologies in the realization of the conference.

The eleventh GRID conference will be held as a combined conference of online, real-time presentations of the participants who will not be able to participate the conference physically and live presentations of participants present in person. The event will be organized in accordance with the valid protective measures in order to prevent the transmission of the virus. The entire event will be streamed online and all interested parties will be able to follow the scientific presentations, as well as the presentations of the exhibitors from the industry. To facilitate online presentations, Cisco WebEx platform will be used. We aim to enable and simplify participation for both, lecturers and wider public. Also, a poster section in digital form with live stream available. We hope that the travel and organisation of the gatherings will return to normal by the November of 2022, but please note that if the conferences still remain characterized as high-risk events or in the case of travel banns, the entire conference will be held online, and of course live streamed.

Program and peer review committee of the symposium consists of eminent scientists from Serbia and abroad. The proceedings of the symposium will be published in English and it has been indexed in SCOPUS base since 2018. It is important to emphasise that this year, authors will be able to choose the Journal-first option. Journal-first is a submission option for authors who wish to have their papers published in the Journal of Graphic Engineering and Design (JGED), decision about acceptance will be delivered after reviewing the received papers. JGED scientific journal is indexed in the SCOPUS database, as well. Papers accepted for publication in the JGED will not be published in the proceedings of the symposium, but can be presented.

We are looking forward to your participation in the GRID22 symposium.


Key dates
15/07/2022 Final deadline for abstract submission
25/07/2022 Notification about paper acceptance
15/09/2022 Deadline for paper submission
25/09/2022 End of reviewing process
03-05/11/2022 Symposium days
Scientific Committee
Drаgoljub Novаković, University of Novi Sad, Novi Sad (SRB)




Thomas Hoffman-Walbeck, Stuttgart Media University, Stutgart (DEU)




Lidijа Mаndić, University of Zagreb, Zagreb (HRV)




Igor Majnarić, University of Zagreb, Zagreb (HRV)





Tomislav Cigula, University of Zagreb, Zagreb (HRV)





Igor Karlovits , Pulp and Paper Institute, Ljubljana (SVN)





Diаnа Gregor - Svetec, University of Ljubljana, Ljubljana (SVN)




Aleš Hlаdnik, University of Ljubljana, Ljubljana (SVN)





Dejа Muck, University of Ljubljana, Ljubljana (SVN)




Raša Urbas, University of Ljubljana, Ljubljana (SVN)





Urška Stankovič Elesini, University of Ljubljana, Ljubljana (SVN)




Tomáš Syrový, University of Pardubice, Pardubice (CZE)





Michal Veselý, Brno University of technology, Brno (CZE)




Petr Nemec, University of Pardubice, Pardubice (CZE)




Michal Čeppan, Slovak University of Technology in Bratislava, Bratislava (SVK)




Joanna Ewa Izdebska, Warsaw University of Technology, Warsaw (POL)





Sabu Thomas, Mahatma Gandhi University, Kottayam (IND)





Csaba Horváth, Obuda University, Budapest (HUN)





Ákos Borbély, Obuda University, Budapest (HUN)



László Koltai, Obuda University, Budapest (HUN)




Rafael Huertas, University of Granada, Granada (ESP)





Anastasios Politis, University of West Attica, Athens (GRC)




Panagiotis Kyratsis, University of Western Macedonia, Kozani (GRC)





Iskren Spiridonov, University of Chemical Technology and Metallurgy, Sofia (BGR)





Borislav Malinović, University of Banja Luka, Bаnjа Lukа (BIH)





Mladen Stančić, University of Banja Luka, Bаnjа Lukа (BIH)




Miljana Prica, University of Novi Sad, Novi Sad (SRB)





Nemanja Kašiković, University of Novi Sad, Novi Sad (SRB)





Sandra Dedijer, University of Novi Sad, Novi Sad (SRB)





Gojko Vladić, Faculty of Technical Sciences, Novi Sad (SRB)





Živko Pavlović, University of Novi Sad, Novi Sad (SRB)





Jonas Malinauskas, Vilnius College of Technologies and Design, Vilnius (LTU)
Roberto Pašić, St. Clement of Ohrid University of Bitola, Bitola (MKD)




Vladan Končar, Ecole Nationale Supérieure des Arts et Industries Textiles, Roubaix (FRA)





Arif Özcan, Marmara University, Istanbul (TUR)





Catarina Silva, Polytechnic Institute of Cávado and Ave, Barcelos (POR)





Tim C. Claypole, Swansea University, Swansea (GBR)




Alexandra Pekarovicova, Western Michigen University, Kalamazoo (USA)





Irma Puškarević, Wichita State University, Wichita (USA)




Organizational Committee
Dragoljub Novaković




Živko Pavlović





Miljana Prica





Nemanja Kašiković





Sandra Dedijer





Gojko Vladić





Magdolna Pál





Uroš Nedeljković





Željko Zeljković




Ivan Pinćjer





Neda Milić Keresteš





Ivana Tomić





Ivana Jurič





Vladimir Dimovski





Bojan Banjanin





Rastko Milošević





Stefan Đurđević





Jelena Vladušić


Savka Adamović





Vladimir Zorić




Jelena Novaković
Vesna Gvoić





Saša Petrović





Gordana Bošnjaković





Dunja Branovački
Predrag Ubović
Nada Miketić




Petar Vasilić
Katarina Marićič



Gala Golubović


Igor Fijat
Iva Juretić


Teodora Gvoka
Ivana Bućko
Olga Mandić

Chair of Organizational Committee
Technical Secretary
Reviewing Committee
Tomislav Cigula, University of Zagreb, Zagreb (HRV)





Tomislav Hudika, University of Zagreb, Zagreb (HRV)




Igor Majnarić, University of Zagreb, Zagreb (HRV)





Sanja Mahović Poljaček, University of Zagreb, Zagreb (HRV)





Csaba Horváth, Obuda University, Budapest (HUN)





László Koltai, Obuda University, Budapest (HUN)




Raša Urbas, University of Ljubljana, Ljubljana (SVN)





Klementina Možina, University of Ljubljana, Ljubljana (SVN)




Dragoljub Novaković, University of Novi Sad, Novi Sad (SRB)




Iskren Spiridonov, University of Chemical Technology and Metallurgy, Sofia (BGR)





Rafael Huertas, University of Granada, Faculty of Science, Granada (ESP)





Markéta Držková, University of Pardubice, Pardubice (CZE)





Bohumil Jašúrek, University of Pardubice, Pardubice (CZE)





Petr Dzik, Brno University of Technology, Brno (CZE)





Viera Jančovičová, Slovak University of Technology in Bratislava, Bratislava (SVK)




Pavol Gemeiner, Slovak University of Technology in Bratislava, Bratislava (SVK)





Miljana Prica, University of Novi Sad, Novi Sad (SRB)





Sandra Dedijer, University of Novi Sad, Novi Sad (SRB)





Živko Pavlović, University of Novi Sad, Novi Sad (SRB)





Nemanja Kašiković, University of Novi Sad, Novi Sad (SRB)





Magdolna Pál, University of Novi Sad, Novi Sad (SRB)





Gojko Vladić, University of Novi Sad, Novi Sad (SRB)





Uroš Nedeljković, University of Novi Sad, Novi Sad (SRB)





Ivan Pinćjer, University of Novi Sad, Novi Sad (SRB)





Mladen Stančić, University of Banja Luka, Banja Luka (BIH)




Thomas Hoffman-Walbeck, Stuttgart Media University, Stutgart (DEU)




Joanna Ewa Izdebska, Warsaw University of Technology, Warsaw (POL)





Zuzanna Żołek-Tryznowska, Warsaw University of Technology, Warsaw (POL)





Anastasios Politis, University of West Attica, Athens (GRC)




Panagiotis Kyratsis, University of Western Macedonia, Kozani (GRC)





Thomas Sabu, Mahatma Gandhi University, Kottayam (IND)





Jonas Malinauskas, Vilnius College of Technologies and Design, Vilnius (LTU)
Roberto Pašić, St. Clement of Ohrid University of Bitola, Bitola (MKD)




Vladan Končar, Ecole Nationale Supérieure des Arts et Industries Textiles, Roubaix (FRA)





Arif Özcan, Marmara University, Istanbul (TUR)





Catarina Silva, Polytechnic Institute of Cávado and Ave, Barcelos (POR)





Tim C. Claypole, Swansea University, Swansea (GBR)




Alexandra Pekarovicova, Western Michigen University, Kalamazoo (USA)